Building a pipeline for social and climate innovation in Portugal
Social innovation has gained significant attention in Portugal in recent years, with various initiatives, policies, and organisations focused on addressing social and environmental challenges through innovative solutions.
Casa do Impacto is Portugal's biggest impact entrepreneurship hub, based in Lisbon, incubating over 60 startups.
Inês Sequeira, Founder and Director of Casa do Impacto, highlights that since its opening in 2018, this hub for social innovation has put Portugal on the map of the impact ecosystem, gathering the resources and network to grow an impact venture.
It is a dedicated space where stakeholders contribute and collaborate to make the necessary paradigm shift in business, with over 3 million euros already invested in supporting social innovators throughout its activity.
The hub aims to create an exciting pipeline of innovative solutions linked with the 17 SDGs through accelerator and incubator programs and investment.
"Given the scope of Casa do Impacto's work, we intend to articulate the different interventions regarding their complementarity to constitute a "pipeline" capable of covering the various stages and needs of entrepreneurship initiatives and social and environmental innovation," says Inês.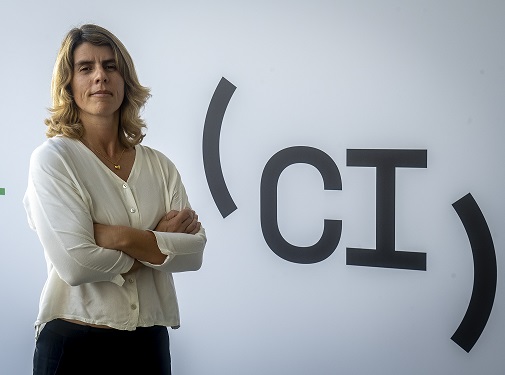 Inês Sequeira, Founder and Director of Casa do Impacto, Portugal.
They run accelerator programs, such as the Triggers to help develop and support innovative projects focusing on environmental issues while responding to societal challenges induced by the climate emergency.
"As part of the process, we offer access to training, mentoring sessions, exchange of experiences and case studies, and, in addition to rigorous monitoring of the work carried out," Inês further explains.
Furthermore, participants can benefit from accessing an extensive network of program partners.
"At Casa do Impacto, we strive to accelerate change and focus our efforts on bringing solutions to life that are able to combine climate justice and social justice."
Inês thinks we need to create conditions where socially and environmentally responsible projects can emerge, saying that providing proper training, for instance, can significantly enhance the chances of having more and better ideas that can be transformed into enterprises.
They aim to support the consolidation and expansion of innovative, environmentally sustainable products and services in the market to become alternative responses and thus contribute to a fair and socially balanced climate transition.
"Social enterprises can contribute to building a more sustainable and just economy in various ways. I believe we need to collaborate more, pilot new solutions, invest when they're ready, and close the circle."
She emphasises that social enterprises are well-placed to change the tide in climate and social innovation while playing a vital role in creating future jobs, attracting investments and inspiring change.
They are keen to create a supportive environment where collaboration with other social innovators, organisations, and stakeholders is encouraged so they can have all the resources, expertise and support to bring their projects to life.
Regarding funding, Inês adds:
"Access to capital through grants, loans, or equity investment can remove financial barriers and support the growth of these projects. Casa do Impacto provides these innovators with the necessary tools and initiatives to help pre-seed and seed-stage projects secure finances."
A rising topic in the country is the circular economy, which could be the most potent multifunctional instrument to tackle the current triple planetary crises of climate change, biodiversity and pollution.
Social enterprises from the Casa do Impacto community are also embracing circularity, such as La Virgule, which upcycles discarded sports and outdoor equipment to reduce waste and transform materials into usable products or Matterpieces, which design high-end cladding material made out of inert waste from demolitions, like glass, bricks, cement, stones.
Circular Economy Portugal (CEP) is an initiative that aims to accelerate the transition to a circular economy in Portugal through knowledge-sharing, capacity-building and hands-on action.
Circular Pioneers from their community include Novonovo, a digital platform that helps the creative community to locate second-hand materials and products, reCloset, an online second-hand fashion platform and Vintage for a Cause, a vintage style clothing brand using industrial textile waste and support women through training.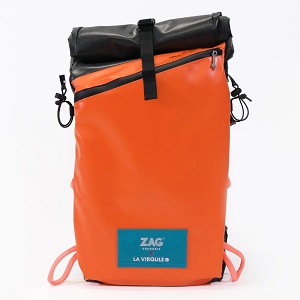 Portuguese social enterprise La Virgule upcycles sports and outdoor equipment. Image: La Virgule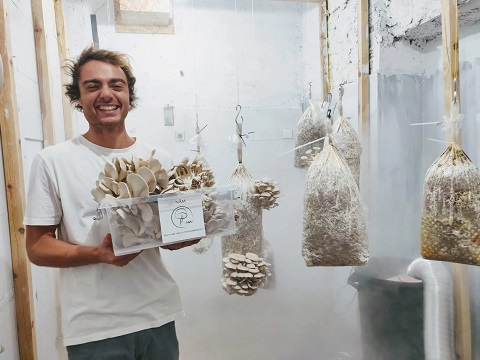 Nãm is Portugal's first circular urban farming project, producing mushrooms and natural fertiliser from coffee grounds collected in Lisbon. Image: Circular Economy Portugal
Portugal is also addressing the challenges of climate change with initiatives aimed at reducing carbon emissions, increasing the use of renewable energy, and promoting sustainable practices backed by governmental grants and tools besides EU support.
The European Investment Fund (EIF) has recently announced that it will help to facilitate investments in Portuguese businesses involved with the sustainable energy transition, climate resilience, sustainable use of the marine environment and the circular economy.
One of the financial instruments launched as part of the Growth Blue I initiative involves a €28m blue economy-focused private equity fund, a trailblazer construction in southern Europe, according to EIF, allocating resources for blue economy investments with climate impact and sustainable development goals.
Inês looks into the future with much hope and envisions a new Hub in Lisbon where they can triplicate the number of projects incubated and promote more and more pilots with corporate and public organisations with Casa do Impacto's Startups.
She also wishes to expand their activity to other locations in Portugal and scale abroad.
Headline image: Pexels