Fixing nature could be the best strategy for business
Nature underpins our wellbeing and prosperity by providing economic value and security, also increasing our resilience to climate change.
The COVID-19 pandemic has brought numerous challenges for people and business, and it is becoming more prominent that we need to rethink our relationship with the natural environment. Despite witnessing progress in many areas, the natural world is suffering and rapidly getting worse.
The Global Biodiversity Outlook 5 (GBO-5), published by the United Nations (UN) Convention on Biological Diversity (CBD) provides an authoritative overview of the current state of nature.
It is a final report card on progress against the 20 global biodiversity targets agreed in 2010 with a 2020 deadline and offers lessons learned and best practices for getting on track.
Elizabeth Maruma Mrema, CBD Executive Secretary, says, "This flagship report underlines that humanity stands at a crossroads with regard to the legacy we wish to leave to future generations".
Depending on Nature
Businesses rely on nature for resources such as fibre, food, minerals and building materials: ecosystem services such as pollination of crops, water filtration, waste decomposition, climate sequestration and climate regulation; and healthy and prosperous societies that give them customers and workforces.
There are potential risks for businesses if they continue to allow the loss of biodiversity and natural habitats: increasing cost, operational risks, liability risks, supply chain continuity, predictability and resilience as well as regulatory, reputational, market and financial risks are just a few of the immediate impact that leaders need to consider.
Those who recognise the importance of nature and act to protect it could greatly benefit from that: long-term viability of business models, cost savings, increases in operational efficiency, increased market potential, access to new markets, innovation, stable supply chains and better relationships with stakeholders and customers.
The UN warns that eight transformative changes are necessary to ensure both human wellbeing and protect natural habitats globally:
land and forests transition, sustainable agriculture transition, sustainable food systems transition, the sustainable fisheries and oceans transition, the cities and infrastructure transition, the sustainable freshwater transition, the sustainable climate action transition and the biodiversity-inclusive One Health transition.
At the 75th session of the United Nations General Assembly record number of countries - nearly 150 countries and 72 Heads of State and Government - addressed the first-ever Summit held on biodiversity to build political momentum towards the next meeting of the conference of parties for the Convention on Biodiversity (COP15) in Kunming, China next year.
In his opening remarks, Secretary-General Antonio Guterres outlined three priorities for conserving and sustainably managing biodiversity:
nature-based solutions must be embedded in COVID-19 recovery and wider development plans,
economic systems and financial markets must account for and invest in nature, and
secure the most ambitious policies and targets that protect biodiversity and leave no one behind.
Changes in these areas will have a direct impact on financial markets and funding policies not just in Europe but all over the world.
Industry players should start shaping their development and innovation strategy accordingly to future-proof their business.
Closing the gap
According to the Closing the Nature Funding Gap report, published by The Nature Conservancy nonprofit organisation, it is estimated that in 2019, the world spent between US $124 and $143 billion per year on activities that benefit nature worldwide. While this figure reveals a near-tripling in funding since 2012, it is still not nearly enough.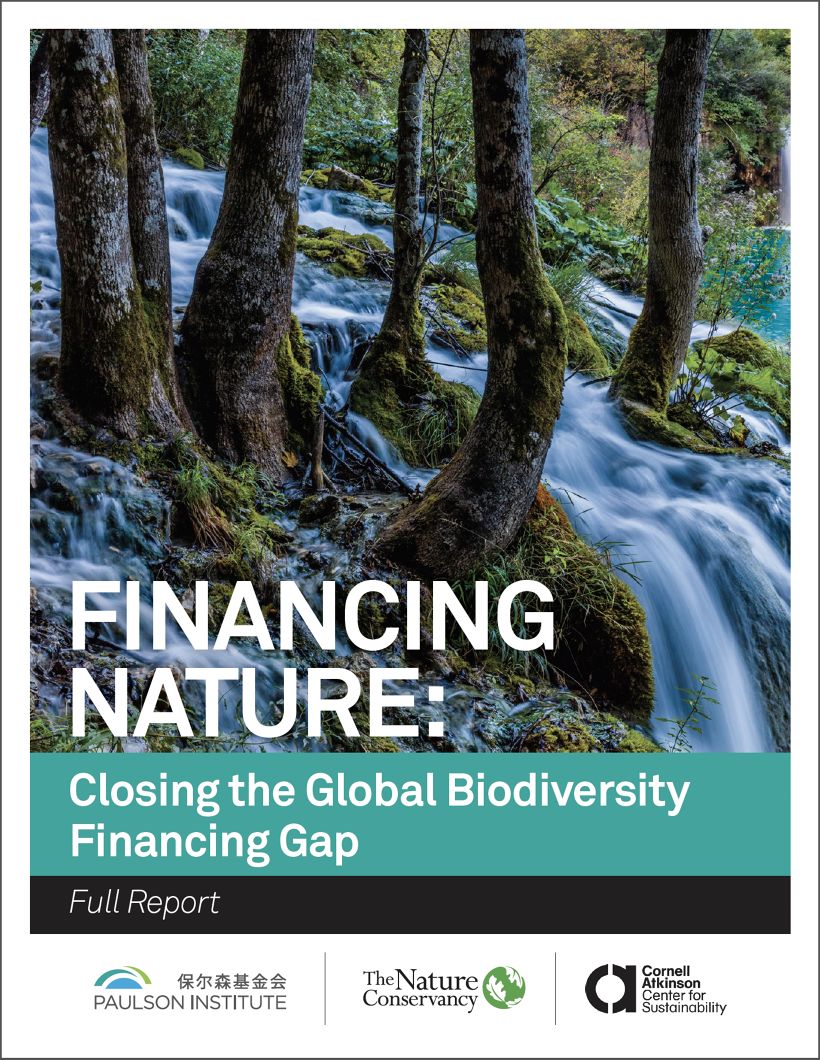 Financing Nature: Closing the Global Biodiversity Financing Gap, The Nature Conservancy
In order to reverse the decline of biodiversity by 2030, we would need to spend between US $722 and $967 billion per year.
This puts the nature funding gap as high as US $824 billion per year. However, as large as the funding gap may be, there is some hopeful news.
We can close the gap for less than one per cent of annual gross global product. For example, this could be implemented by closing the nature funding gap with what the world spends on cigarettes or soft drinks in a year.
It's possible that the gap could be closed with no new funding.
Much of what we need is the better deployment of existing funds and smarter policy and investment choices. In other words, shifting the flow of capital away from harmful behaviours and toward outcomes that benefit the environment.
We will not halt biodiversity loss, no matter how significant our actions are in other areas unless we make substantial changes to the sectors that are truly driving the degradation of nature.
The business potential
The World Economic Forum reveals that roughly half gross world product is highly or at least moderately dependent on nature.
Having a healthy, prosperous society depends on nature systems and how well we protect them. In order to achieve this in the long-term, we need a transformational shift in how we value nature in our economies.
The Business for Nature is a global coalition that brings together influential organisations and forward-thinking businesses.
Through this collaboration, they demonstrate business action and amplify an influential business voice calling for Governments to take action.
The coalition calls for a global framework that will reverse nature loss through policies that protect and restore nature and incentivise its sustainable use.
Members represent a diverse and powerful group of networks and organisations that are working with businesses to reverse the loss of nature.
They exhibit business ambition and action to protect and enhance nature by aggregating, amplifying and helping scale existing business commitment platforms.
The world is tackling both the health and financial impacts of the COVID-19 pandemic, and because of that, it is easy to not care about the state nature is in. However, the cost of doing nothing, in both planetary health and economic terms, is much greater.
Businesses can take action through specific projects, across their business, their supply chains, form sectorial collaboration and align, integrate and enforce policies for nature, people and climate.
These steps could lead to building a better economy and preserving the delicate balance of the natural world.