"Go beyond the frameworks and empower entrepreneurs!"
Fireside chat with Agnieszka Sznyk, Ph.D. - President of the Board of INNOWO, a non-profit Think Tank based in Poland, working on implementing circular economy practices and systemic transformation.
---
With about nine years of working on circular economy and related projects, I would say that the concept has become mainstream within the sustainability community and is making its way outside of these circles.
However, one of the cornerstones to making the circular economy mainstream in the business sector is that it must be profitable.
It doesn`t make sense that virgin materials are still cheaper than recycled ones or that design solutions embracing longevity and repairability are significantly more expensive.
Due to my work that includes a lot of analytics, I come across many failure stories and see how little is actually happening beyond the idea or start-up phase.
There are a lot of great innovative circular ideas coming up and more programs to support them, but at present, they are mostly enough to take the initial steps, and when the money stops, the projects die.
There are promising sectors, such as the Bioeconomy, where we can see much interest and innovation focusing on converting biomass to energy, using bacteria in wastewater treatment or algae in carbon management and designing bioplastics.
Agnieszka Sznyk, Ph.D., circularity expert and President of the Board of INNOWO
Based on my experience, we should support start-ups to survive and get into the scale-up phase while helping SMEs embed circularity and grow as a business thanks to these changes.
Although it is a steep uphill battle as long as we are fixated on cheap products costing society instead of companies simply because the hidden externalities are not manifesting in the market price - A fiscal revolution mixed with enhanced producer responsibility could move the needle.
To see clearly what is needed, the best is to have an x-ray of the current economy and see where we stand.
That is what we had in mind when we worked on publishing the first Circular Economy Gap Report for Poland.
To everyone`s surprise, the Polish Circularity scores relatively high, at 10.2 per cent, compared to Norway scoring 2.7 and Sweden at 3.4, while the world average is 7.2.
No one expected that result that clearly shows a massive potential for the Polish Economy to close the loop.
The biggest lesson from creating the report was to measure what we can and be more confident of where we are and are headed – perceptions and appearances are not enough for this kind of transformation.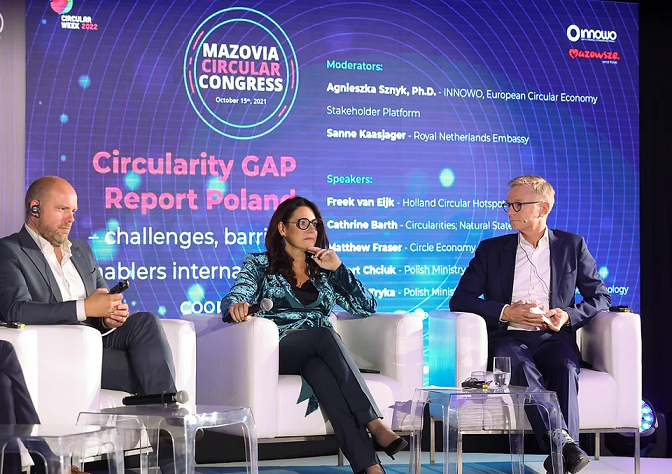 According to the Circular Economy Gap report, the Polish Circularity scored relatively high compared to world average in 2022.
The other conclusion for me reiterated the importance of cooperation and how much we can still learn from each other.
Most of the time, we don`t need to reinvent the wheel; just listen and adopt tested and proven to be working ideas. Think about, for example, the growing clothes renting trends.
If bigger fashion brands were to introduce these models, they would be inclined to design better-quality products that can be used for longer.
This could have a ripple effect on the whole industry.
Multinational companies have a massive role to play through their supply management, yet still, a circular economy is more about focusing on local communities than globalisation.
We need a mindset change to start thinking about the end of the life of products.
How can it be dismantled, reused, or repurposed, or what happens if it ends up in the landfill?
A good circular project would always start with design.
Getting the public interested and buying into circularity is also a big chunk that needs to be dealt with. We have arrived at a stage where we need less conversation and more action.
I firmly believe that if we can keep it practical and feasible, going circular would solve many pressing climate crisis issues.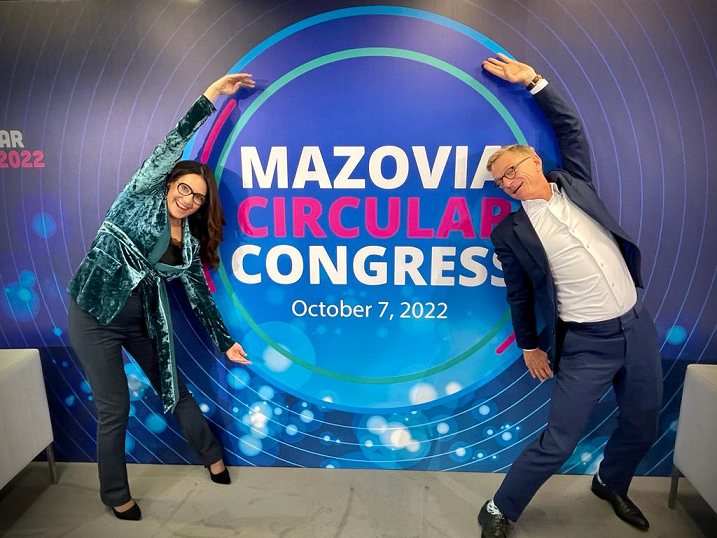 Promoting Circular Economy is at the core of INNOWO`s work in Poland.
We are involved with the Polish Circular Hotspot, a public cooperation platform for transitioning into a circular economy.
This is a multistakeholder collaboration where we work with businesses of all sizes to educate them about circularity, support them in developing solutions, and build circular value chains.
Through a collaboration with the Metabolic Foundation, we are also participating in the Circular Cities Programme to develop city-wise strategies and analyse material flows to bring long-lasting system change.
To foster collaboration, we are the main facilitators behind the Circular Week annual event that brings together leaders from different sectors and allows organisations to join the movement by participating and hosting partner events.
It is an international campaign aiming to promote the idea of a circular economy, support sustainable business models and establish cooperation between interested stakeholders.
The sixth edition will take place on 23-27 October 2023, with the Mazovia Circular Congress held on 25 October as the focal moment of the week.
The next big thing for me is to run practical pilots on the ground, such as a sustainable food hub or urban farming project in one of the Polish cities, while connecting partners to make it happen.
I thoroughly enjoy working with people in this space who are typically highly motivated and enthusiastic as they believe what they do is important, which also keeps me grounded and inspires me to keep going forward.