How to make a coffee with a conscience?
When we start talking with Grace O'Shaughnessy, managing director at Java Republic, you can quickly get the sense of a leader who has the experience, passion and a type of wisdom that only people who earned a few scars in the business world would have.
What made our conversation special is that it went beyond repeating lines from a well-designed company's mission statement as a result of employee training.
It is needless for her to waste energy on painting a better picture than reality. Instead, she is just being upfront and direct about making money, preserving values without turning their story into a Hollywood movie. Grace now manages all aspects of the business with over 70 people working there, and she is committed to driving, mentoring this team on the Java Republic journey.
She shares some pure and simple truths about the pitfalls and triumphs of running a value-driven business.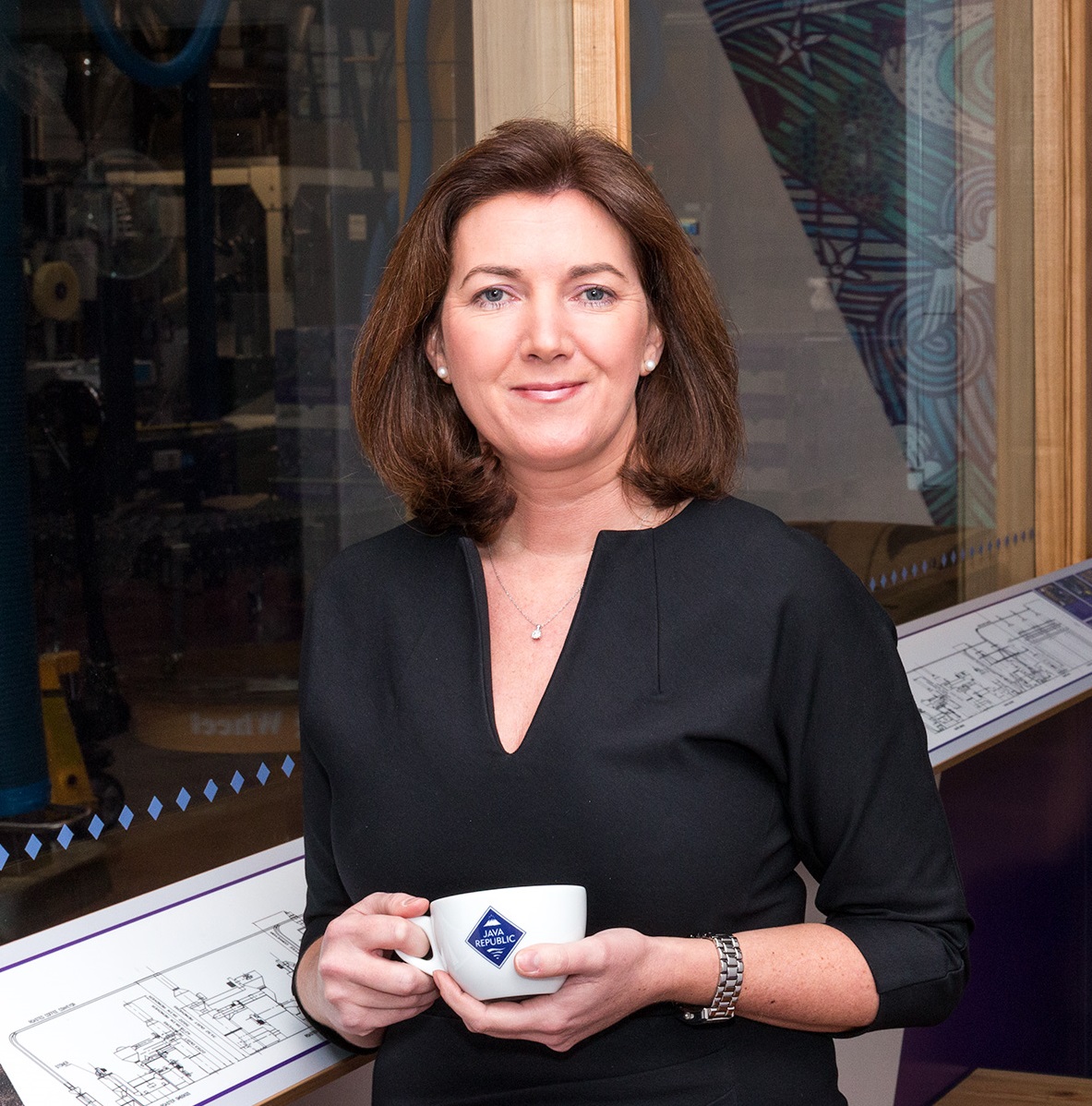 Grace O'Shaughnessy, managing director, Java Republic
---
Building a company to become open and transparent
If you think about it, 20 years ago, when our story started, sustainable and ethical considerations did not play crucial roles in building a business. In our case, since our inception, we wanted to do more than making money as a coffee company who just drop a box at delivery. Our goal was to bring the coffee farmers story from the origin close to our end consumers.
So we were digging deeper, going further than anybody else in our market at the time. It has become part of what we do to educate our team, our market, our partners and consumers to make them understand what it takes to make a great cup of coffee.
Undoubtedly profit is something that drives the organisation, if we don't make money, we can't reinvest in innovation, development and our people, which is critical to get our message transitioned internally and externally.
We have the responsibility for all 77 hardworking people being employed at this organisation. Still, we also have to think about all of our farmers who produce the coffee beans, noting that their whole life depends on this single product.
It makes you, as a leader determined to achieve those sales numbers, allowing you to pay salaries and fair prices. However, I also enjoy finding ways how we can work smarter, do better and be an advocate of the values that we created here. I believe if we ever stop being content with what we have achieved, our competitors and the market will surpass us.
Connecting people through the coffee journey
From the beginning, Java Republic is focused on the connection with the farmers and bringing their coffee to Ireland.
That gave the foundation in building our philosophy and translating this journey into words: Coffee for the people by the coffee people.
Our ethos, which is 'coffee with a conscience' is in everything we do. These principles drive our actions, help us not to lose sight of what is really important. As we move through the years, dealing with challenges in the business – sales, people, strategy – it keeps us focused, keeps us grounded, so we don't go off track.
Visiting the origins every year is part of our policy. Most of the coffee companies use coops or trading agents and never actually see where their products are coming. For us, it's about the connection, the understanding and a reminder that we are not just dealing with a high-quality product but people.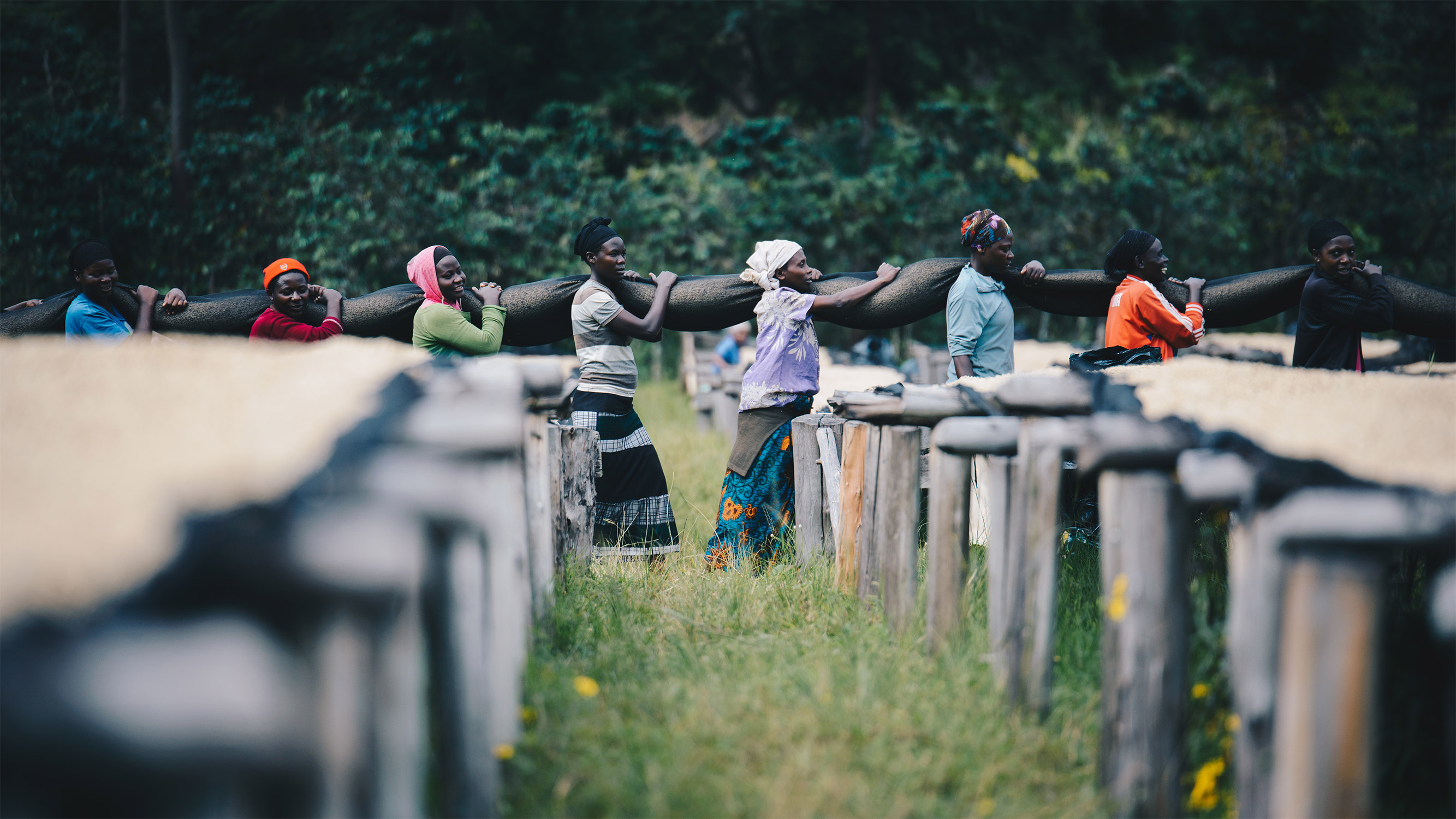 Women working on coffee farms - Source: Java Republic
When you go to the origin and see what all this means to a farmer, it becomes more personal. David McKernan, the founder of Java Republic, visited Rwanda in 2018, and on his trip, a woman asked him in a village where we buy some of our coffee:
'Could you send us some of our coffee back so that we can try it?'
We have some of our farmers who have never tasted their product in a single cup of coffee. They are growing the green coffee, they are selling it or delivering it to a co-op, but they don't ever get to see it finished. They don't know where Ireland is for the most part, but the premium price we are paying for the high-quality allows them to build a better life. And that's what matters to us.
When bad times come…
For a very long time, coffee hasn't been a sustainable product, and the end consumer knew little about the supply chain. It was a commodity that people would trade the same way they would trade oil or gold. Therefore you totally depend on markets determining if you had a good year or not and where prices could change any time. That's a risk you'd always have in this industry.
When business flourishes, it is easier to focus on building culture and nurture values. But, changes in the economy can occur through huge curveballs, like this coronavirus pandemic that has a negative impact on the whole society. As a business, we had a similar experience with the financial crisis that caught us after investing a lot into our new facility, leaving us vulnerable without extra savings.
A situation like this puts your business under massive pressure from all channels possible, including internal stake holders, partners and end consumers. In the time of crisis, naturally, price becomes an issue.
It was difficult for us to navigate the business, especially that our partners were asking that we lower the quality of the products for better pricing position.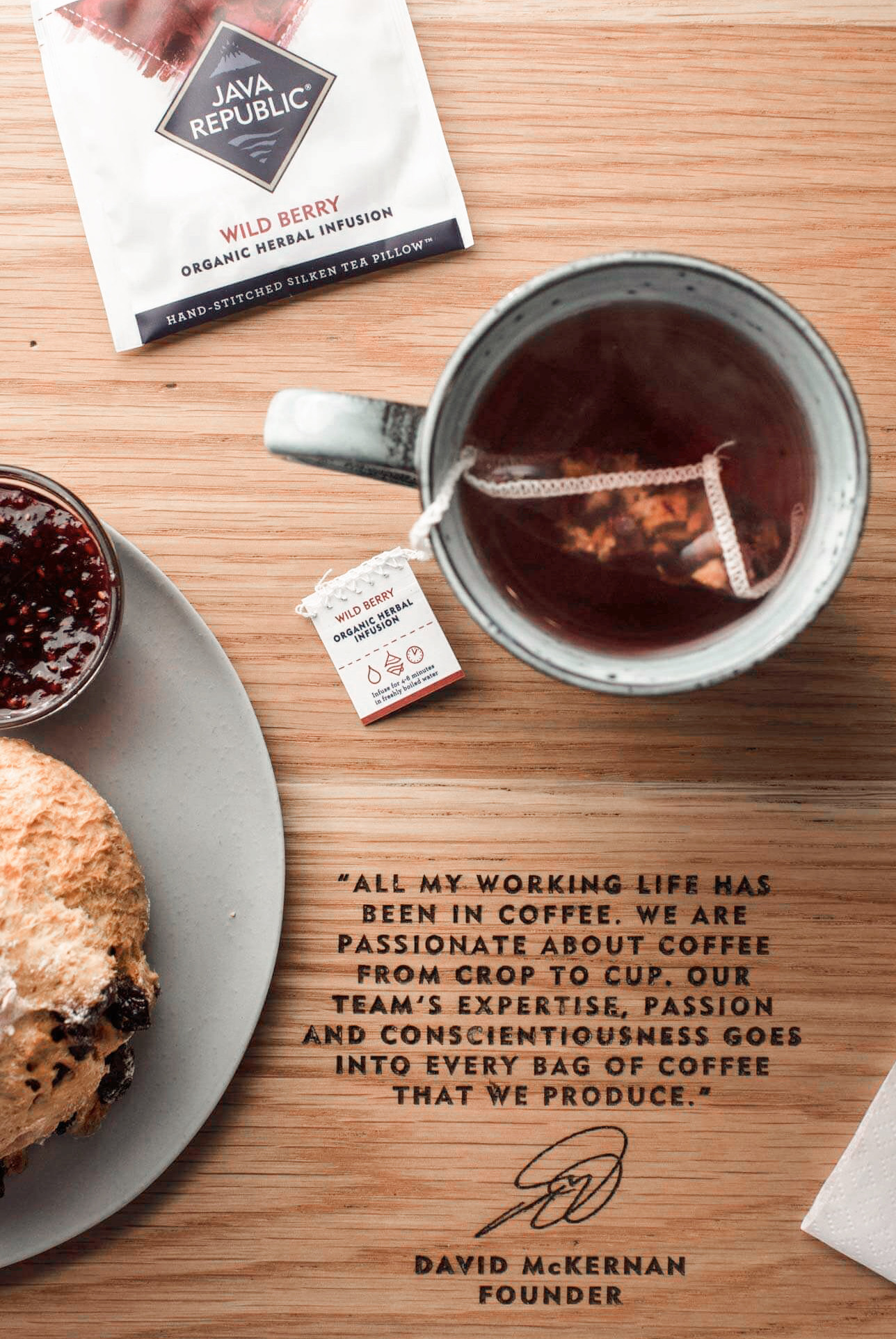 The Java Republic journey created by the founder, David McKernan - Source: Java Republic
It was a serious dilemma because in doing that we would have become a player on the market that fights on price. When that happens, that is a race to the bottom, and there is no turning back.
We made a tough decision to hold on to our values, not to sacrifice quality and with that our farmers, and our team.
It was extremely turbulent, we all had our doubts and had to work harder than we thought.
But had we not done that we might not be here today with a strong position on the market, being proud of what we stand for.
Our core values – passion, conscientiousness, expertise – served as a compass in the last two decades, and they are woven into our plans for the future.
It also gives us an edge and positioning on the market, which helped us not just survive but thrive as a business over the years.
We believe in this! It's the right thing to do: our farmers deserve a fair price, our team deserves a fair environment to work in, and our customers deserve a quality product with all of the values we have to offer.
Leading the way in carbon neutrality
When you visit our headquarters in Ballycoolin, with the first purpose-built carbon-neutral roastery, you will find floor-to-ceiling glass walls right next to the café allowing visitors to see every stage of the roasting process. The roastery provides a great talking point to start a conversation about carbon emission besides the pro ducts.
This whole carbon emission issue is very complicated, and when people don't understand something, they tend to shy away. Our way of handling this is through transparency, education and by breaking it down, telling our customers what we do in simple terms.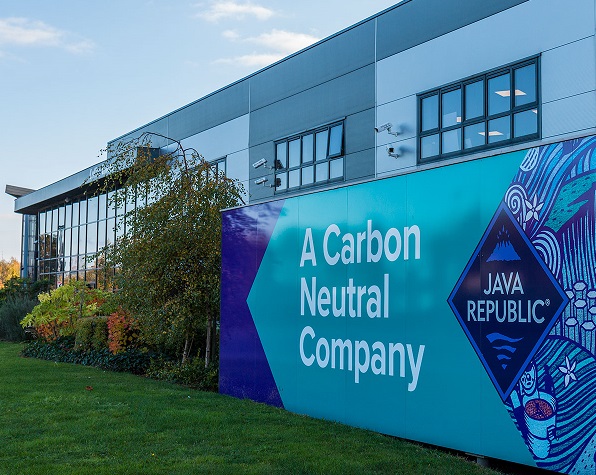 First carbon neutral roastery in Ireland - Source: Java Republic
We might not even use carbon neutrality as a term, but show the actions that lead to that end.
Like we do not send our coffee grinds to the landfill. Instead, we put them into bags and allow our customers to take it for free, use it in their garden as a natural fertiliser and slug repellent.
We do not throw away the coffee sacks either, but again customers can use them for various projects. In addition to this, 100% of our coffee chaff goes to compost which is about 3 tonnes each year. There is a wood pellet burner to heat our building and water, and this overrides the commercial boiler.
These are very tangible, simple elements that translate our efforts to become carbon neutral.
When our business partners visit our carbon neutral roastery, it's a 'wow' factor. It's a bit deceptive from the outside as a warehouse-style building, but once you get inside, you get an extraordinary experience.
In the end, when they understand more the 'whole coffee journey' they want to invest in that, and it's not about price anymore, it's about collaboration in delivering a top-quality product with a positive impact.
Translating values
I found a lot of companies can be doing great things but having difficulties in translating that and getting the right message to the right audience. Branding is an essential part of making our story accessible and engaging to all of our stake holders. It's our job to tailor each message to each audience in a way that they would find it interesting.
Consumers are driving many changes in our industry to be more sustainable. It is fair to say that being sustainable is not a 'nice to have' factor anymore but expected.
You can deliver a positive impact, but if no one understands what you are doing, how would you expect them to care and even to pay a premium for it?
Back in the days, it would have sufficed to have an accreditation or affiliation with a third party, like Rainforest Alliance or Fair Trade.
You would still need that now, but you are challenged as a business to stand for so much more, especially by the younger audience who is demanding that you are transparent and operate responsibly.
However, it's not just about consumers. Our market is a very competitive landscape for employees and being authentic is key to attracting and retaining talents. We live and breathe our values, and that's a key factor for people joining Java Republic.
When I started here, the culture caught me on day one. I got a sense that it is more than a value statement on the wall.
One of the reasons I'm still here after 12 years is that these values resonate with me and keeps me passionate about my work.
Coffee is an all-inclusive industry
The great thing about the coffee industry is that you don't have to look a certain way or be from a particular background to work here, and it is also a very trendy place to be.
We are collaborating with Oberstown Children Detention Campus where some of the young people would never have the opportunity for education.
We developed a pioneer training programme with Oberstown for young offenders in their facility to learn and become a barista.
As a result, these young people have an opportunity to earn an income when they leave the facility. Besides the physical skills, it also provides them with self-confidence and the soft skills needed to deal with customers and people in general.