Innovation and sustainability trends showcased in Dublin
The Furthr Festival will present game-changing innovations, future technology, and business opportunities in sustainability on Friday, 21st October, at the Convention Centre in Dublin, Ireland.
The event, previously known as Futurescope, comes under a new name and branding but with the same passion for bringing together business leaders for a day of inspiration, learning and networking.
Attendees can explore topics across five main stages focusing on Insights, Innovation, Sustainability, Transformation and Investment with more than 100 high-profile international and Irish speakers.
Keynote speeches include topics like Guardians of the Future, presented by Sophie Howe, Future Generations Commissioner for Wales and Think global: Move quickly, delivered by Michael Culligan, CEO at Furthr.
The event is best suited for innovators and innovation seekers looking for trends, insights, ideas and connections to take their businesses to the next level.
One of the highlighted sessions will be the One2Whatch startup competition, where pre-selected innovators will pitch for the ten thousand Euro cash prize and become crowned winners as the most promising startup.
With an expected attendee number of around 1600, this is the ultimate meeting point for business leaders striving to be at the forefront of change, unlocking market opportunities.
Additional highlights of the conference include the Future Tech Arcade, The Innovation Exchange, panel rooms, an exhibition area and plenty of networking opportunities during lunch and the after-event drink reception.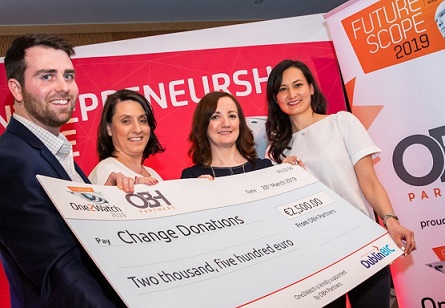 One2Whatch startup competition at Furthr Festival with 10K prize money. Image: Furthr
A particular emphasis will be on facilitating collaboration opportunities between diverse stakeholders such as startups and scaleups, investors and academia.
Tickets are available on the event's webpage.
Furthr, formerly Dublin Business Innovation Centre, has accelerated funds and connections for Irish startups since 1988, empowering entrepreneurs to advance their ambitions.
Over the years, Furthr has helped Ireland's innovative startup founders to raise a total of €500+ million.