Sweetening the deal to make food ethics matter
Chocolatey Clare, alias Clare Tate followed her passion when she designed a chocolate range in Ireland with a sensational taste while raising the bar to the highest in ethics and sustainability.
In this interview, she shares her secrets of running an ethical food business that goes beyond the usual 'greening' strategies.
---
I set up my business in 2016, knowing absolutely nothing about the food industry. After turning 50, I decided to just do something else entirely and switch to a completely different career by becoming an entrepreneur.
I have been a vegetarian for about 30 years, and I turned vegan along with my whole family about seven years ago. I couldn't find any vegan chocolate that I really loved, even though I tried almost all of them.
So I decided to make my own and started my business by searching the internet 'How do you make chocolate?'. Besides finding the best taste, I had some other criteria on my list: to start with, it had to be vegan, but veganism extends to an approach to minimise the exploitation of not only animals but humans, the environment and the planet.
In the finished product, you have your in¬gredients, processes, people, packaging, and everything has an effect.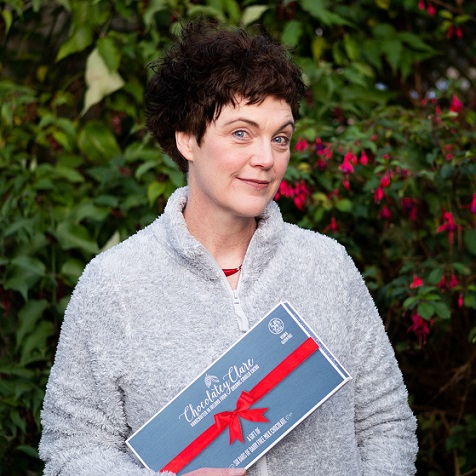 Clare Tate, Founder of Chocolatey Clare is dedicated to raise the bar in food ethics.
Food ethics is one of my main principles, which means no animal or human exploitation in the production of my chocolate.
I strive to ensure that all my ingredients are ethically sourced, so I would investigate the ethics policies and the sustainability commitments of all the suppliers I engage with. For example, when I use organic coconut milk powder, I also need to make sure that no monkeys are used to harvest the coconuts.
I think there is no such thing as a neutral purchase because you support that company every time you buy something.
One of the main challenges for me entering the food industry was having no previous experience whatsoever. I had to research everything, but I don't think it was all negative because it meant that I had no preconceived notions of what should I be doing.
I investigated everything and looked at all possible options at the time.
I went to a lot of trouble to find environmen¬tally friendly packaging. The boxes I use are made from FSC certified paper and printed with vegetable-based ink instead of petroleum basting. The printing company that I work with has printing machines that are actually wind-powered.
My products are more expensive than the mass-produced options. But if you think about it, there is a good reason for that.
Particularly in the food industry, there is an unrealistic expectation from the general public that chocolate should be cheap.
If everybody in the supply chain is fairly paid and the environmental impact is taken into account, the end product will obviously be more expensive.
At the same time, unfortunately, there is still a lot of exploitation and even slave labour involved in the cocoa industry.
The result is that chocolate is cheap when it shouldn't be, so it is a bit of an uphill battle to convince consumers that chocolate is a luxury item that deserves to be paid for and should be treated that way.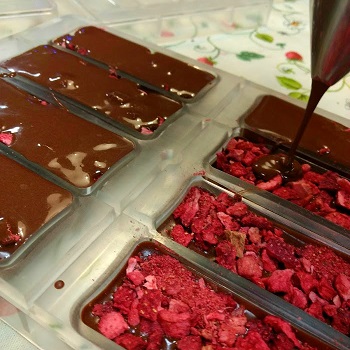 "Chocolate is a luxury item that deserves to be paid for and should be treated that way," says Clare Tate.
One of my other mantras is that you should buy less but buy better. I think consumers have all the power because if we stop buying something, then companies will stop making it or be forced to examine how they produce things.
Most of my customers aren't vegan and aren't really bothered about buying dairy-free products, but they like the chocolate we make. And this was another thing that absolutely was at the top of my agenda.
Not only do I want to make chocolate according to my principles and my ethics, but it has to be delicious.
Figuring out all the details and building up a business was not easy, and I was glad to receive such tremendous support from the Dublin City Local Enterprise Office. It meant not just being able to have experts helping me but getting great exposure to my products and refining my positioning.
I would love to see many more people stand by the type of business I'm running.
Considering that there are plenty of resources and food out there to feed the world, yet only a few per cent of humanity has the luxury to enjoy it, we would definitely need a systemic change.
How the system works right now, how food is produced, priced, distributed, and consumed, is far from being fair or sustainable.
It might look like an unrealistic or naive paradigm shift, but access to quality and safe food is a basic need and should be available to everyone.
As a small business, I'm doing everything within my reach and power to get people to at least think about their impact when purchasing their food.
Chocolate might just be a sweat first experience for them to feel good about making better choices whenever they buy something.
---
This content is a piece of an article originally published in the "Make change happen" issue of Profit with Purpose Magazine.