Transforming Ireland's home for entrepreneurs to support climate innovators
As a top global incubator in the heart of Dublin City, hosting more than 160 innovative start-ups, the Guinness Enterprise Centre (GEC) has a massive influence on the business ecosystem in Ireland.
The Guinness Enterprise Centre is recognised as one of the greatest incubators globally, ranking as the second private business incubator in the world, according to UBI, the University Business Incubator benchmark.
Eamonn Sayers, Manager at GEC, says: "Our mission is to drive economic wealth in Ireland by empowering entrepreneurs to start and scale.
We provide the best environment for these entrepreneurs to attract talent, scale, and build phenomenal businesses."
In the past years, the GEC underwent a transformational change inside-out.
After many years of being a traditional business support organisation, they modernised the building with sustainability in mind and became a green business hub.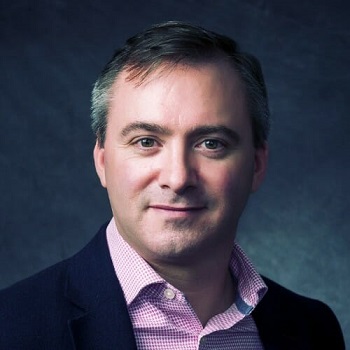 Eamonn Sayers, Manager, Guinness Enterprise Centre
Recently, the Irish Government nominated the Guinness Enterprise Centre as a Circular Economy Hub.
They now actively collaborate with Techies Go Green, a non-profit organisation supporting tech-oriented companies to become carbon neutral by 2030, in building a sustainability cluster.
The cluster was launched by Eamon Ryan T.D., Minister for the Environment and Climate, in February 2023.
"What's happening at the GEC right now is also a preview into the future of smart business and innovation in Ireland," said Minister Ryan at the launch.
Speaking on this transition, Eamonn further explains how they facilitated this shift: "We recently completed an €11m expansion with support from Diageo, Dublin City Council, Dublin City Local Enterprise Office, Enterprise Ireland, the Irish Strategic Investment Fund and Furthr.
We started planning for this in 2016-2017, and from the beginning, we had the desire to put sustainability at the heart of our community in the GEC."
More and more businesses are recognising the importance of taking climate action.
Eamonn reflects on the GEC's decision: "We need to lead and demonstrate what is possible. In our community, we are inspired by innovators and entrepreneurs every single day.
It's all around us. It's in our DNA, and sustainability must also be in our DNA."
The GEC building is now 95,000 square feet. Two new floors were added and built with carbon neutrality at their core.
The concept of having a green roof has encouraged the team to the point where they now have 18 beehives on the top of the building.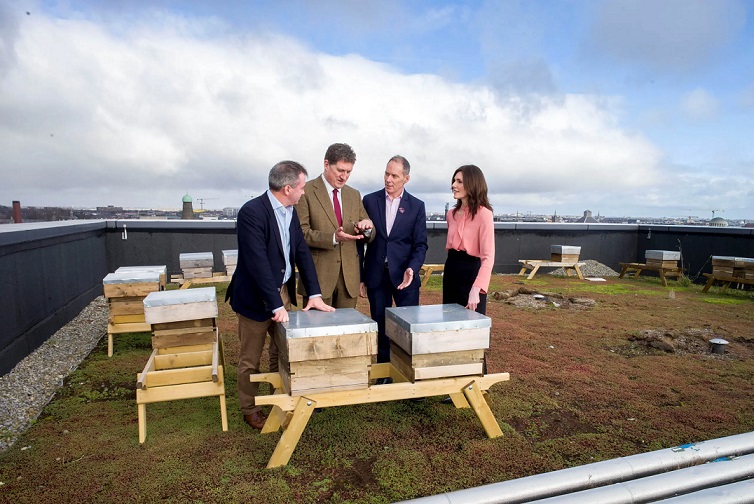 (Left to right) Eamonn Sayers, manager, Guinness Enterprise Centre; Eamon Ryan, TD, Minister for the Environment and Climate; Michael O Hara, co-founder, Techies Go Green; and Dr Mary O Riordan, CEO, HaPPE Earth on the green roof of GEC at the beehives.
Sustainability measures were also factored in around heating, lighting, air conditioning, recycling, charge points, transport initiatives, and much more. The team have plans to install solar panels to further their greening efforts.
Speaking on the challenges they faced in transitioning to a hub for sustainable innovation, Eamonn says: "The primary challenges we faced were balancing cost and value and, initially, lack of deep domain knowledge.
Understanding the practical side of sustainability was crucial to the development of the Centre."
The team expects the hub to grow further and help immensely to drive sustainable innovation.
They started by building the largest community of sustainable innovators by collaborating with key partners in this space, such as Techies Go Green, Community Resources Network Ireland, Dublin City Council, the Dublin City Local Enterprise Office and Enterprise Ireland.
"In line with Government's cluster policy, we have developed the Centres sustainability cluster, Sustainability@GEC attracting climate innovators with more engagement on a weekly basis. Besides, we are engaging our sustainable early-stage startup community with corporations adopting best practices and building new processes."
The GEC team also believe the transition to a hub for sustainable innovation will help other businesses that are not traditionally green overcome barriers and challenges to implementing sustainability and circular economy practices.
Eamonn says that the GEC will act as a test bed connecting with a wide range of businesses and enterprise locations, with enterprises operating from their building employing over 900 staff.
"We want to share our sustainability journey with all other startup hubs across our enterprise ecosystem here in Ireland, thereby putting sustainability at the core of every startup community," Says Eamonn about their ambitions to go further.
"If we get it right in the GEC, we can get it right in every start-up hub in Ireland. We get it right in the hubs; then it follows that every start-up in Ireland will put sustainability at the core of how they operate in business.
The impact on our country will be tremendous.
We are excited by the potential of Irish start-ups showing the way towards a sustainable future.
We have it within our own work and deeds to develop a brighter future for Ireland and for the world we live in. Let's grasp this opportunity - our time for sustainability is now."
---