Using tech for transparency in fashion
Clothing and textiles are a fundamental part of our everyday lives and a vital sector within the global economy.
However, our current means of making, consuming, wearing, and discarding clothing is evidently no longer working. According to Business Wire, sustainability is rated as a vital purchase criterion for 60 per cent of consumers across the globe while they are demanding transparency from brands and looking for green credentials.
However, according to the Fashion Revolution 2022 Fashion Transparency Index, 50 per cent of the world's biggest fashion companies disclose little or no information about their supply chain.
Only 12 per cent of fashion brands across the globe offer information concerning their raw material suppliers.
Without transparency, shoppers struggle to assess a brand's environmental and social footprints and determine whether its statements are genuine or greenwashing.
What could bridge the transparency gap between eco-conscious consumers and fashion brands?

Can it be as simple as a QR code?
An Irish start-up, Ecode, thought so when they came up with the idea to empower consumers through their app to scan, learn, get rewards, connect, repair, recycle, and ultimately, change fashion.
Ecode was founded by three students, Elise Vens, Emmet Lowry and Nathan Gaborieau.
The three met during their Master's in Sustainability at Trinity College Dublin (TCD), where they extensively studied the fashion supply chain's detrimental social and environmental effects.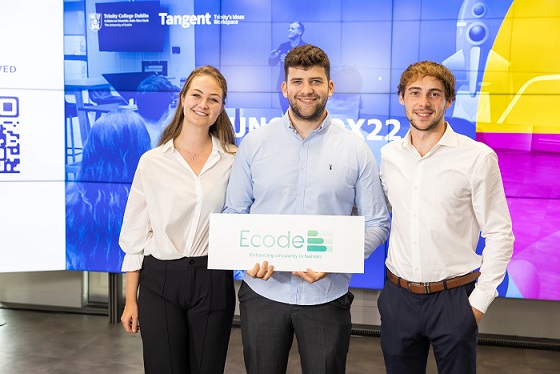 Ecode founders Elise Vens, Emmet Lowry and Nathan Gaborieau.
They make an international team as Elise is from The Netherlands, Nathan is from France, and Emmet is Irish.
Elise Vens, Co-Founder of Ecode, explains how their initial idea took off: "We immediately pinpointed circularity as the driver of change and started working on a tool that would give shoppers more insight into what they're buying while empowering the consumer to be an actor of the change.
We realised this greatly benefits fashion brands in determining the lifespan of their items and increasing their products' durability.
By gaining insight into these life cycles, Ecode has the power to help brands monitor their CSR improvements. Hence, our slogan became 'enabling circularity in fashion'."
In November 2021, the Ecode team participated in Trinity's Provost Challenge, a three-day hackathon whereby students were challenged to ideate and develop a business idea where they came second.
Speaking on why they chose to focus on fashion specifically, Elise says: "For one of our courses, we had the opportunity to research the social and environmental impact of the fashion industry.
We were shocked to find out that this industry is the second-largest polluter on earth after the oil industry. A few weeks later, Trinity's Provost Challenge was announced with the theme 'How do you combat fast fashion?'.
We immediately realised this was our cue and submitted our idea for Ecode. Ecode can fundamentally change the fashion industry for the better, from a linear consumption towards a circular model of doing business.
We've recognised that the barrier to transformation is frequently not a lack of will but rather a lack of accessibility and connections between actors."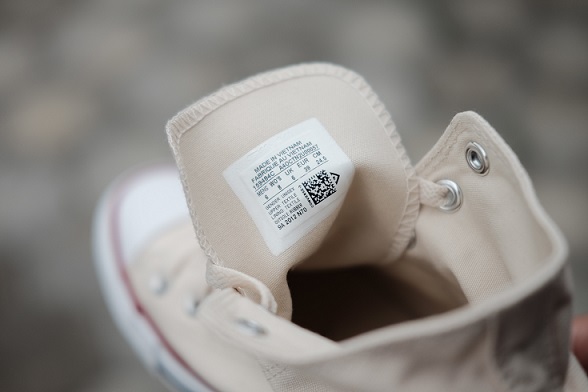 Ecode`s solution is based on using QR codes in fashion items to increase transparency and circularity. Image: unsplash
Elis adds: "Ecode aims to integrate the entire landscape of actors in circularity. We connect stakeholders such as brands, consumers, recyclers, repairers, and resellers.
Ecode is not only offering a QR code, but an entire ecosystem that can collectively create change by interacting with one another, bringing the option of circularity to everyone's doorstep."
Afterwards, they decided to apply for Trinity's LaunchBox Student Accelerator 2022 and were awarded the first prize, which provided immense validation for their project. In January of 2023, they received the Acting for the Environment Prize from Enactus France, an international social entrepreneurship project presentation competition for university students.
Currently, their biggest challenge is developing a BETA version of their application that can be replicated and quickly implemented in different companies to kickstart their revolution towards circularity in fashion. However, the team plans to overcome this hurdle and has big hopes for the project's application.
Elise explains their plans further:
"Our goal is for Ecode to become the first thing that pops into the mind of consumers when they have to purchase, recycle, and repair clothing.
By making these processes easier for the consumer, we aim to drastically change consumer behaviour. In the next three years, we hope that everyone in Ireland and the rest of Europe will have heard of Ecode and that we will have a growing number of users."
The amount of textile waste in the EU has doubled over the past 20 years.
With Ecode, the team hope to increase the number of clothes put back into circulation by up to 60 per cent in stores.
They also wish that by informing consumers about the impact of products, they can indirectly reduce the pressure on the planet by placing more environmentally sound products in the spotlight.
Headline image: unsplash