What makes changing the world so difficult?
You can put together a long list of why making change happen is difficult. It is complex and requires more data, discussions, planning, resources, and so on.
But one of the simplest and most overlooked reasons is that in order to change the world, we need to first change on a personal level. And this is more complicated than it sounds.
Before even moving forward to explore the nature of change, we should take a step back to understand the term better. Based on the definition of Addison-Wesley (1991), Change is situational, like a new boss, a new team role, a new policy. While Transition is the psychological process people go through to come to terms with the new situation. Change is external, transition is internal.
Therefore, whenever we are talking about personal change, we need to look at the process of transition.
We deal with infinite changes throughout our lifetime, which can be great or small, anticipated or unforeseen. Whether positive or negative, any transition may mean a period of adjustment. Accepting the new reality is even more difficult if it is unexpected or out of our control.
The whole process is problematic because it is a loss of the familiar, and our initial reaction can be one of shock and resistance.
In order to understand how people react to change over a period of time, we can draw on the expertise of the Scott and Jaffe Change Grid Model. Cynthia Scott and Dennis Jaffe developed this model and first introduced it in their article, 'Survive and Thrive in Times of Change' in 1988. The model, which has been attributed to psychiatrist Elisabeth Kübler-Ross' Five Stages of Grief Model, shows a progression of four stages as people react to change.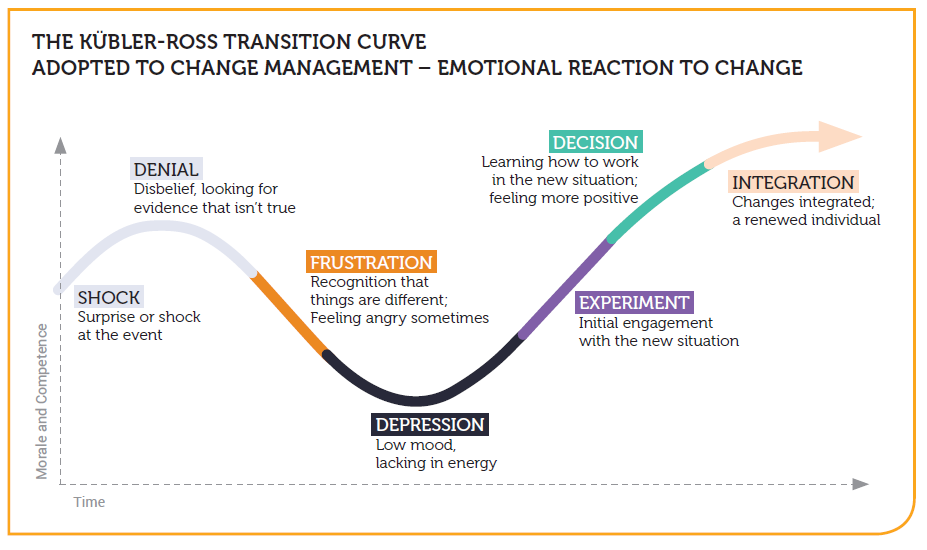 There are different emotional reactions to each stages of processing change.
The reason for drawing a parallel between change and grief is because letting go of the old is experienced as a form of grieving. Another element to add to the mix of why it is challenging to start change.
The first stage of this model is Denial, which can take the form of ignoring the change, downplaying it or acting as if it will never happen.
The next stage, Resistance, is driven by fear of loss. In this phase, feelings of anger, bitterness and frustration will abound. People will resist moving forward as they don't believe there is anything to gain from making a change.
Eventually, this is followed by the Exploration phase, when we have accepted that the change is unavoidable and new methods are finally explored.
Finally, the Commitment stage is characterised by a focus on the future and a pledge to the new mode of living/operating.
The above mentioned original concept developed by Elisabeth Kübler-Ross in the 1960' has been adopted and further elaborated by change management practitioners to help leaders manage people while introducing changes in organisations.
The seven-phase transition or change curve is a valuable tool in the hands of modern leaders if they aim to deliver change, create a new status quo and engage their team along the way. This model can also be a powerful tool in understanding the ignorance and resistance to change regarding climate action.
Rather than blaming people for their inaction, we can look at ways to help them overcome the challenges associated with the different stages of transition.
Since the first humans walked the earth, we as a race have been adapting to and evolving to suit and shape our surroundings. Modern humans survived because we developed a unique combination of physical and behavioural characteristics, many of which other early human species also possessed, though not to the same degree.
As we mourn the many losses of the pandemic and face the uncertainty of the climate crisis, it's natural to fear further upheaval or change.
However, whether we want it or not, change is the only constant and living a full life means accepting the challenges along with the celebrations.
Challenges offer opportunities for greater connections and growth; from that new vantage point, we can re-evaluate where we want to go.