At the forefront of empowering civil society leaders for a decade
The NGO Academy has become one of the strongest ecosystem builders in the Central Eastern European (CEE) region, dedicated to strengthening Civil Society through capacity-building training and educational activities to empower leaders.
Celebrating its 10th anniversary, Peter Vandor, one of the Founders and Academic Directors of NGO Academy, founded together with the ERSTE Foundation in 2013, shares insights about their impact over the years.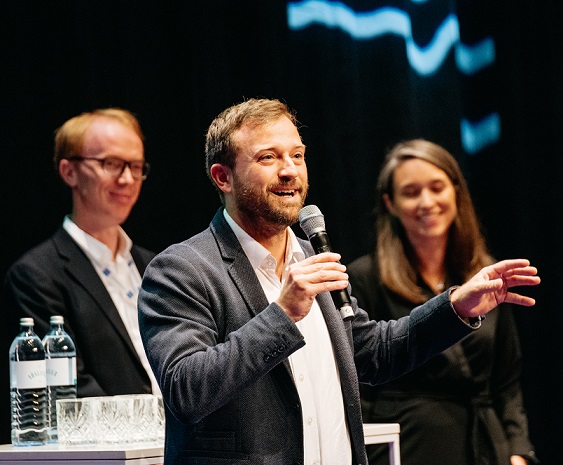 Peter Vandor, one of the Founders and Academic Directors of NGO Academy, Co-Founder of Social Entrepreneurship Center at the Vienna University of Economics and Business. Image: Igor Ripak
"In recent years, the environment for Civil Society in the Central Eastern European region has increasingly become a `shrinking space`, suffering from difficult and unpredictable political and economic environments and lack of international support,"
Peter describes the current situation.
He adds that by the beginning of 2000, many organisations that previously supported the civil sector had left the region, which left organisations providing social services or working on human rights or environmental protection vulnerable to external factors.
"We try to support these organisations by helping them to grow their talent and competencies.
We train their leaders and key staff in a range of organisational topics, from fundraising and innovation to impact measurement, burnout prevention and strategy development."
Peter has a broad overview of the sector by working shoulder-to-shoulder with his colleague, Reinhard Millner, Head of the Social Entrepreneurship Center at the Vienna University of Economics and Business, where they provide academic learning experiences and promote the development of social entrepreneurship and social innovation.
In the past ten years, NGO Academy has reached hundreds of organisations and trained over 6000 leaders through 290 workshops, management courses and MSc programmes focusing on Social Innovation and Management.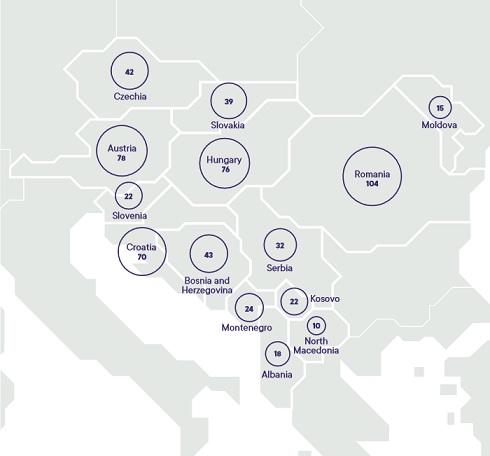 Number of NGO Academy member organisations in the CEE region. Image: NGO Academy
"NGO Academy began as a start-up – a small team with a profound belief in the idea, with total commitment and high ambition.

Today, the NGO Academy exists through the interactions of many people and organisations and has established itself as an important educational institution,"
said Nicole Traxler from the ERSTE Foundation.
Based on their recent survey, nine out of ten participants said they benefited from the new knowledge they acquired through these programs, and almost 80 per cent confirmed that they would find it financially challenging to take part in other offerings that are not supported.
Lejla Šehić Relić, one of the members and participants of the program, shared:
"NGO Academy is a unique, important programme of capacity building, connecting people and organisations. It provides inspiration, knowledge and support and is a vital bridge between the energy of civil society and the wisdom of an academic community that offers hope."
Available programmes target leadership, executives and managers from a pool of outstanding civil society organisations within 14 Central and Eastern European countries, bringing knowledge from various areas, such as management, finance and communication skills.
"We try to attend as many of our activities in person as possible and talk with our members to understand their experiences and needs," Peter explains.
However, the team had to experiment and innovate rather quickly in terms of delivering meaningful and engaging learning experiences due to COVID-19, which heavily impacted most members but, in the end, helped them create a broader selection of course offers that stayed popular post-pandemic.
NGO Academy celebrated ten years of impact in Vienna in September 2023. Image: Igor Ripak
Their results speak for themselves, as 84.6 per cent say that being a member of the NGO Academy has contributed positively to their organisational development, and 57.3 per cent reported having started new projects or activities as a result of NGO Academy training.
Peter adds:
"The part I enjoy most is teaching and discussions with our members in the classroom. Since one of my topics is innovation management, there is often a lot of discussion about where they see society moving and how they plan to respond. Being able to provide a helpful structure and seeing them bring new ideas to life is very rewarding."
A study that Peter worked on found that many civil society leaders still have an overall positive assessment of this sector in the past 10-15 years, mainly due to the favourable legal frameworks, eye-level dialogue with public authorities and easy access to funding promoted by the European Union.
However, this is mostly the case among countries in the pre-accession phase to become EU members, while member states are not so optimistic anymore.
Member state representatives see an improvement in relationships with municipalities, but working with the central government has often become more challenging, and civil society organisations have become the targets of anti-liberal narratives, framing them as "foreign agents", threatening their funding or their right to operate.
Other trends include an overall increasing professionalising of the sector, shifting from informal to more formalised activities, and embracing newer forms of operations, including social entrepreneurship.
To celebrate their achievements and shared impact, NGO Academy hosted a 10th-anniversary event in Vienna in September, including TEDx Talks sessions showcasing many of their members` stories and impact.
Headline image: Igor Ripak